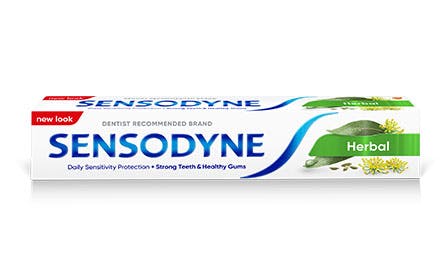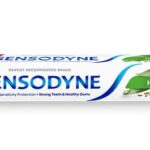 Sensodyne Herbal Multi Care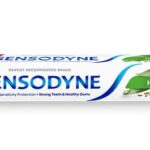 Sensodyne Herbal Multi Care
Sensodyne Herbal Multi Care
with Eucalyptus & Fennel extract
Relieves sensitivity*
Fights tooth decay*
Keeps gums healthy*
Freshens breath*
Short, sharp discomfort from cold and hot foods and drinks could be tooth sensitivity.
Brush twice daily to relieve some sensitivity and help protect oral health.
*With twice daily brushing
Ingredients
Sodium Fluoride 0.3152% w/w, Potassium Nitrate 5.00% w/w, Glycerol, Xanthan Gum, Sodium Lauryl Sulphate, Saccharin Sodium, Titanium Dioxide, Sorbitol, Silica, Sodium Hydroxide, FD&C Blue, FD&C Yellow & Flavor Howrah (Aroma, Eucalyptus Oil, Fennel Oil & Limonene).
Directions
Brush twice a day and not more than three times, minimise swallowing and spit out.
Description
Additional information
Description
Warnings and Precautions
Always follow the label. Sensitive teeth may indicate an underlying problem that needs prompt care. If symptopms persist or worsen see a dentist.
Not for use by children under 12 years of age, unless on advice of a dentist or doctor.
If irritation occurs discontinue use.
Talk to your dentist or doctor as soon as possible, if you experience swelling of the mouth or face.